Divisive in the Community; It will make a very small group within some communities happy, but it will make a much larger group of constituents very unhappy, leading to protests, polictical battles, and even lawsuits. Parents will place their children in the hands of other educators whom they feel they can trust.

From; Trendwatch Magazine, Vol. 1. No. 2, Gateways to Better Education
---
POTENTIAL INITIATIVE WOULD ROLL BACK GAY AGENDA IN SCHOOLS
by Lara McGovern, staff writer
Parents in Oregon may get a chance to vote on a ballot initiative that would take state money away from schools that push homosexuality.
The Oregon Citizens' Alliance has collected over 83,000 signatures for a ballot initiative to decide how homosexuality is dealt with in the schools. If 67,000 of those signatures are valid, the initiative could be on the November 2000 ballot, according to campaign chairman Lon Mabon.
"If there is a program or policy that, in any way, promotes or encourages or sanctions homosexuality to the student, it would then be illegal," Mabon said.
In fact, the measure would require that any school promoting homosexuality would lose some state funding.
"We come from the perspective that homosexuality is wrong sexual behavior; and, therefore, if we allow it to be presented to our kids as if it's good - one, it's going to harm the kids; two, it's going to allow the homosexuals to indoctrinate the kids," he said.
Focus on the Family Education Analyst Dick Carpenter said homosexual activism is proliferating within schools across the country.
"In California, we see students in high schools getting awards to promote homosexuality in their schools. Union activist newspapers are out there instructing teachers how to promote homosexuality in their schools. So we see just a rise of it all over schools," Carpenter said. "Even on the GLSEN (Gay, Lesbian and Straight Education Network) Web site, you can see that they show, in 1990, there were only two gay and lesbian student clubs in schools, and now there are literally hundreds all over the United States."
The Oregon initiative is the first of its kind in any state.
Source: CitizenLink by Focus on the Family
---
---
GOVERNORS ASKED TO INVESTIGATE 'GAY' AGENDA IN PUBLIC SCHOOLS BY THE AMERICAN FAMILY ASSOCIATION
AFA is asking the governors of all 50 states as well as the heads of their respective education departments to investigate whether their schools are being used by homosexual activists to indoctrinate children without parental knowledge.
"When parents find out what is being taught to their children in school about homosexuality, they will be outrage," said Tim Wildmon, AFA vice president. "We think it is time for the executives of each state to respond to the concerns of parents before controversy erupts."
Wildmon mentioned the recent explosive events in Massachusetts, where their state's Department of Education commissioner David Driscoll was forced to apologize publicly after three homosexual activists held an explicit "hot to" session on homosexual sex acts with students as young as 14.
AFA also expressed its deep concerns about he June 10 release of a new pro-homosexual video and curriculum expressly intended for children in elementary school. Film producers Debra Chasnoff and Helen Cohen will release That's a Family!, a propaganda piece aimed at convincing children that seam-sex relationships and the "families" they create are that equivalent of a married mother and father. The video is the first of a three part series entitled Respect for All.
"I suspect even the title of this series is deceptive. It's not respect for 'all,' its respect only for the pr-homosexual view," Wildmon said. "Based on the producers' past work, parents will be very upset to discover that their own religious and moral views are being challenged at school, behind their backs and without their consent."
Chasnoff and Cohen walked the same road with their first video, It's Elementary: Talking About Gay Issues in School. That controversial work instructed teachers on how to slip pro-homosexual messages into everyday school lessons. Those who view homosexuality as unnatural or immoral were portrayed as ignorant, bigoted and hateful.
AFA sent a packet to the state leaders highlighting their specific concerns on curricula such as That's a Family! Included in the packet is a copy of AFA's Suffer the Children: Answering the Homosexual Agenda in Public Schools. That video was a direct response to It's Elementary. Three articles documenting the homosexual agenda regarding children and the public school system were also included.
Please call or write your governor and ask that they review the materials sent to them.
For more information on the AFA or to help them in their efforts to battle the homosexual agenda Click Here.
Source: AFA Journal August, 2000 Volume 24, No. 7
---
REPORTS
HOW HOMOSEXUAL ACTIVISTS INTEND TO CAPTURE THE NEXT GENERATION - by Ed Vitagliano
HOMOSEXUALITY AND CHILD MOLESTATION: THE LINK, THE LIKELIHOOD, THE LASTING EFFECTS - by AFA
CHILDREN'S LIBRARY BOOKS WITH HOMOSEXUAL THEMES OR CHARACTERS,
Recommended Reading for Teenagers? A Closer Look at P-FLAG,
GRADING THE NEA (National Education Association)"
THE SHOCKING TRUTH ABOUT HOMOSEXUALITY IN SCHOOL CURRICULA
THE HOMOSEXUAL AGENDA IN SCHOOLS by Roberst Knight
AT&T TARGETS MIDDLE SCHOOLS WITH PRO-HOMOSEXUAL MESSAGE
Peter LaBarbera's "THE GAY YOUTH SUICIDE MYTH"
TOP 10 STRATEGIES USED BY HOMOSEXUAL ACTIVISTS IN SCHOOLS.
HOW TO PROTECT YOUR CHILDREN FROM PRO-HOMOESEXALITY PROPAGANDA IN SCHOOLS.
THE FACTS ABOUT JUST THE FACTS.
It's Elementary: Gay and Lesbian Issues in the Classroom, A Film Review
First AIDS Education, Then "Safe Schools," Then Gay Advocacy
PARENTAL RIGHTS IN PUBLIC SCHOOLS
NEWGAY FRIENDLY TV SHOWS

You are the
th person to visit PWTL!
---
This page is to be used as talking points for countering the aggressive homosexual activists and politicians that clearly want to over ride our religious convictions and belief that homosexuality is immoral and in no way should be condoned or accepted by society as normal. PWTL calls for tolerance of all peoples view points and beliefs about homosexuality, but not necessarily having to agree or change ours. In no way does PWTL condone violence or ridicule towards homosexuals. As people of faith we must put on our armor and take a stand against the schemes of this movement. We must understand it, and be prepared so that as the day comes we are able to give an answer each and every time.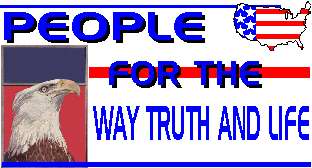 ---